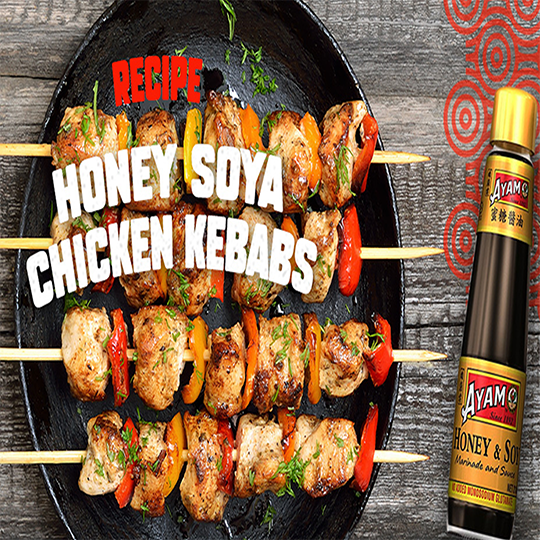 Honey Soya Chicken Kebabs
Delicious honey soya chicken kebabs! They're super easy to make and packed with tasty flavours of AYAM™ Honey & Soy Marinade and vegetables.
Ingredients
Marinade:
1/3 cup Ayam Honey and Soy Marinade and Sauce  
1/4 cup Vegetable Oil
1/4 tsp Ground Black Pepper
Kebabs:
Skinless, Boneless chicken breast halves – cut into 1 inch cubes
8 small onion, cut into 2-inch pieces
5 Medium red bell peppers, cut into 2-inch pieces
2 Garlic
2 Cloves
Bamboo skewers or as needed, soaked in water for 30 mins
Directions
Whisk together Ayam Honey and Soy Marinade and Sauce , oil, and black pepper for marinade in a large glass bowl.
Remove 1/4 cup f the marinade to a small jar; seal and set  aside to use while cooking.
Add chicken, onions, bell peppers, and garlic to the marinade in the large b0wl. Cover and marinate in the refrigerator for 2 hours of overnight.
When ready to cook, preheat an outdoor grill for high heat and lightly oil the grate.
Drain marinade from the chicken and vegetables, and discard marinade. Thread chicken and vegetables alternately onto skewers.
Place kebabs on the preheated grill.  Cook, turning frequently and brushing with the reserved marinade, until the chicken is no longer pink in the middle and the juices run clear, 12 – 15 mins total.
Contact Details
Manning Impex Limited, Manning Impex House, 2 Doman Road, Camberley, Surrey, GU15 3DF, United Kingdom
Telephone: +44 (0) 1276 406888
Email Sales at sales@manningimpex.com . Email Imports at imports@manningimpex.com