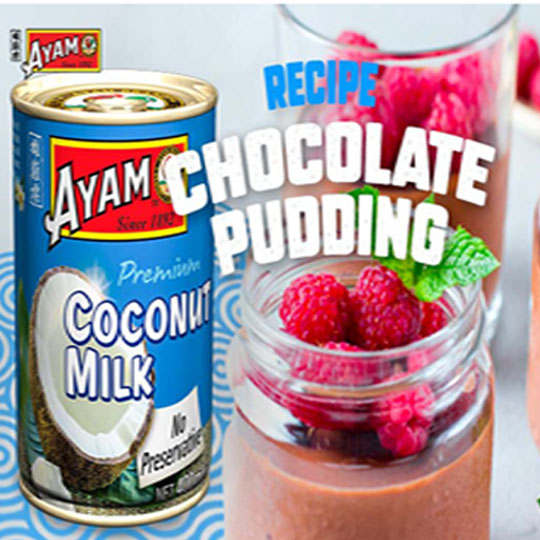 Chocolate Pudding
Indulge in the creamy decadence of our irresistible chocolate pudding. Made with the dark chocolate and infused with coconut milk, this velvety dessert is a true delight for your taste buds. Dive into a spoonful of pure bliss as the rich chocolate melts in your mouth, perfectly balanced with the subtle sweetness of coconut. Whether you're a chocolate lover or a coconut enthusiast, our pudding will transport you to a paradise of flavour. Treat yourself to a moment of pure indulgence with our chocolate coconut pudding. Satisfaction guaranteed with every spoonful.
Ingredients
1 can Ayam Coconut Milk
300g Dark chocolate (60%-70%) finely chopped
1 Tbsp vanilla extract (optional)
Optional garnished: whipped coconut cream, shaved chocolate, berries, mint or nuts
Directions
Shake the can of coconut milk vigorously before opening, then pour inti a small saucepan. Heat the coconut milk to a simmer over medium heat.
Stir often to avoid scorching. Warm for a couple of minutes, until the liquid almost comes to a boil. Immediately remove from heat.
Add a third of the chopped chocolate the hot coconut milk. Stir gently until the chocolate has completely melted and the mixture is smooth.
Repeat with the remaining chocolate in two separate additions. Stir in the vanilla extract, if using.
Pour the pudding into jars,glasses or ramekins: Cover with cling film and refrigerate for at least 4 hours.
Remove from the refrigerator about 30 minstrels before serving. Top with garnished of your choice or just serve with a spoon.

Contact Details
Manning Impex Limited, Manning Impex House, 2 Doman Road, Camberley, Surrey, GU15 3DF, United Kingdom
Telephone: +44 (0) 1276 406888
Email Sales at sales@manningimpex.com . Email Imports at imports@manningimpex.com